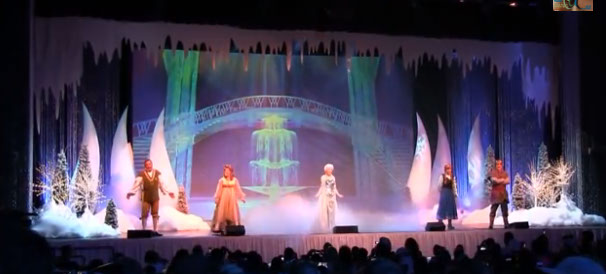 HOLLYWOOD BOULEVARD
This is essentially the "Main Street" of Disney's Hollywood Studios® which ends at the replica of the famous Chinese Theater. There are shops filled with movie memorabilia, souvenirs, and snacks, as well as some great attractions and dining.
Don't Miss...
The Great Movie Ride
This attraction does feel a little dated, but the Wizard of Oz section in the finale makes it worth a visit—the witch is one of the most amazing audio-animatronic characters you will ever see!
Dining Along Hollywood Boulevard
The Hollywood Brown Derby
Table service. One of the nicer dining spots in Hollywood Studios. There's a good selection of American favorites, and a world renowned Cobb salad. Reservations recommended.
ECHO LAKE
This small lake is just off of Hollywood Boulevard. Attractions are scattered along the lakeshore, including the seasonally open Dinosaur Gerdy's Ice Cream stand.
Don't Miss...
Frozen Sing-Along
I know its hip to act like you're sick of the music from this hit movie. But its still great music and there is something special about watching hundreds of children and adults singing along with their favorite moments from the movie that is truly special to witness.
The Indiana Jones Stunt Spectacular
Fans of the popular adventure movies will love seeing how some of the epic stunt sequences were shot. Boulders tumble at this attraction, stunt fights break out, characters jump from high buildings...and there are a lot of explosions!
Star Tours
This simulated turbulent space journey was recently improved with high definition 3D video and so many different versions that it's slightly different every time you ride.
Other Echo Lake Area Attractions
ABC Sound Studio
(Open the during peak summer season) Create the sound effects used in a real television production.
Dining Along Echo Lake
Hollywood and Vine
Table service. This all-you-can-enjoy buffet features Disney Junior characters at breakfast and lunch, but not during the dinner hours. Reservations recommended.
50's Prime Time Café
Table service. This classic diner features traditional diner fare served with a fun 1950s attitude. Reservations recommended.
Min and Bill's Dockside Diner
Quick service. Light lunch fare and snacks.
Oasis Canteen
Snacks. Best known for funnel cakes, but also serves ice cream treats.
Backlot Express
Quick service. The Backlot Express is designed to look like a Hollywood prop shop, and features vegetarian sandwiches, chicken, and salads. Look closely and see if you can spot props from some of your favorite movies.