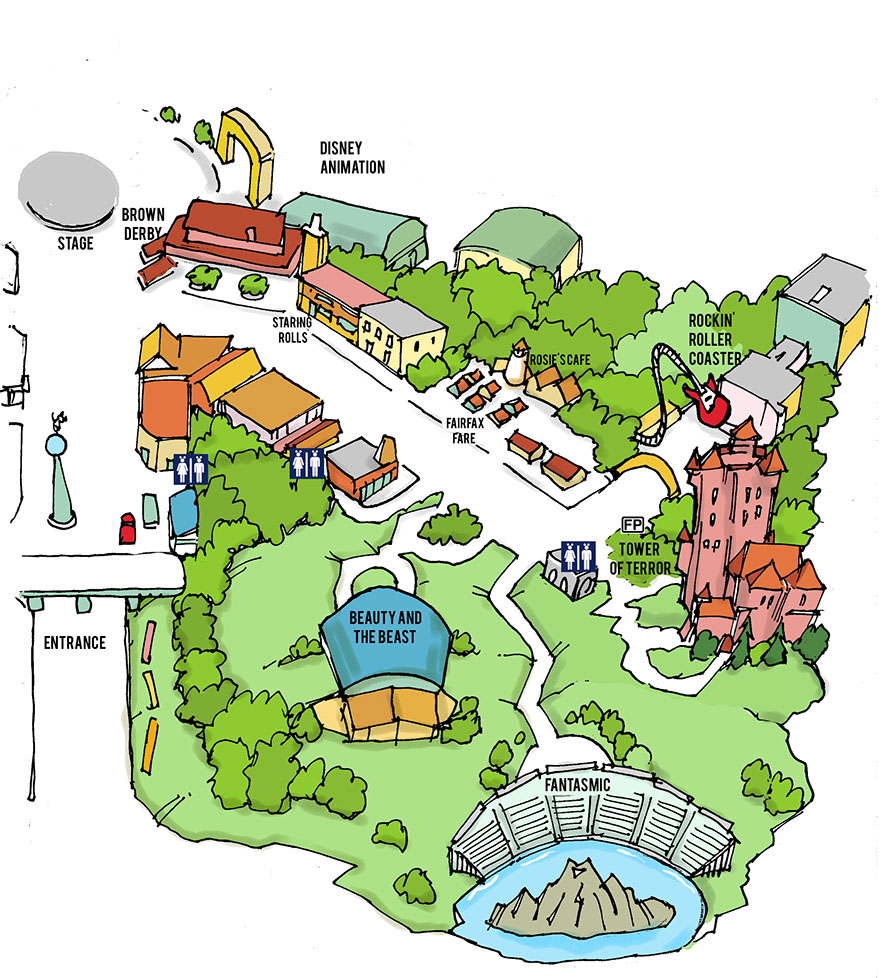 SUNSET BOULEVARD
Some of this park's best attractions lie along this street—it feels like you are venturing into the glamour of old Hollywood.
Don't Miss...
Beauty and the Beast Live on Stage
Broadway-caliber musical performances tell the story of Belle and the Beast.
Rock 'n' Roller Coaster Starring Aerosmith
Fans of the classic Space Mountain roller coaster will be blown away by this rocked out, all in the dark trip across a mythical musical Los Angeles to attend an Aerosmith concert. Magnetic levitation launch technology catapults you from 0 to 60 in a breathtaking two seconds... and we do mean breathtaking. This coaster has a few inversions and is definitely not for the faint of heart, but those who dare will be rewarded with an incredible ride!
The Twilight Zone Tower of Terror
This beautifully creepy old hotel is the perfect blend of theme, thrills, and chills, and is home to one of Disney's scariest attractions. You'll take a service elevator that not only goes up and down, it moves forward through one of the upper floors of the hotel before dropping guests through a series of completely unpredictable drops. The drop sequences are different every time you ride, but you can count on one full thirteen story drop to the bottom of the shaft. Again, not for the faint of heart.
Dining Along Sunset Boulevard
Starring Rolls Café
Quick service and snacks. This is more a bakery than a restaurant, but they do have good sandwiches along with the baked goods you might expect...and some really, really good cinnamon rolls.
Toluca Legs Turkey Co.
Quick service and snacks. This is the best spot in Hollywood Studios to get that famous Walt Disney World® turkey leg. It's so big, and sooo good!
Anaheim Produce
Quick service and snacks. If you're craving something healthy to snack on, this is the spot for you. Fruits, veggies, and other healthy refreshments.
Rosie's All-American Café
Quick service. Not too far from the Rock 'n' Roller Coaster and the Tower of Terror. Burgers and fries are the main attraction here.
Catalina Eddie's
Quick service. Pizza and salads.
Fairfax Fare
Quick service. Gourmet hot dogs, smoked spare ribs, and chicken.
Disney's Hollywood Studios® Special Touches
Most Disney parks end their days with some sort of evening spectacle. Hollywood Studios has a large outdoor amphitheater show called Fantasmic. Unlike the fireworks at the Magic Kingdom® or Epcot®'s Illuminations that you can enjoy from virtually anywhere in the park, you can really only see this amazing show from the amphitheater that houses it. If you want to experience Fantasmic, be sure to arrive early to be sure you can get a seat.
Fantasmic Food Offerings
The giant arena that surrounds the Fantasmic stage has its own concessions stands.